2006 Cadillac CTS

2006 Cadillac CTS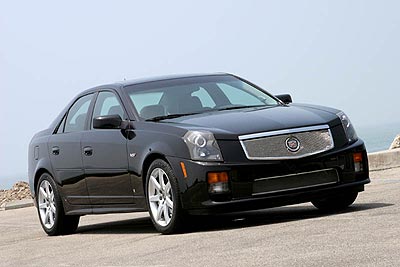 2006 Cadillac CTS

Cadillac's smallest sedan gets revised sport and performance packages for 2006. Three models are offered. CTS 2.8 has a 210-hp V6. CTS 3.6 has a 255-hp V6. The high-performance CTS-V has a 400-hp V8. A 6-speed manual transmission is standard for all. V6s offer a 5-speed automatic with manual shift gate. Also standard are ABS, front side airbags, curtain side airbags, and OnStar assistance. Leather upholstery is optional for the 2.8, standard elsewhere. For '06, the available Sport Package adds to V6s a limited-slip differential, antiskid system, xenon headlights, sport suspension, and 17-inch wheels vs. 16s. The revised Wheel Performance Package adds to the 3.6 model speed-variable steering assist, uprated brakes, sport suspension, load-leveling suspension, and 18-inch wheels. Added during the model year, the Wheel Sport Appearance Package gives the 3.6 CTS-V-style trim elements. CTS-V includes the sport suspension, uprated brakes, antiskid system, and 18-inch wheels with run-flat tires. A navigation system with voice activation is optional for V6 models, standard for CTS-V.

COMPETITION

Consumer Guide® Automotive places each vehicle into one of 17 classes based on size, price, and market position. Premium Midsize Cars sport interior dimensions similar to Midsize Cars. Premium Midsize Cars offer more luxury, performance, and prestige when compared to Midsize Cars. This segment is one of the industry's fastest-growing categories.

Our Best Buys include Acura TL, Cadillac CTS, and Infiniti M. Our Recommended picks include the Acura RL, Infiniti G35, Lexus ES 330, and Mercedes-Benz E-Class.

New or significantly redesigned models include Lexus GS, Lincoln Zephyr, and Mercedes-Benz CLS.